A spunky orphan girl finds a home with a New York millionaire during the Depression, but must dodge the clutches of her evil orphanage mistress, in Charles Strouse, Martin Charnin and Thomas Meehan's musical based on the popular Harold Gray comic strip.
Tonight the audience had the pleasure of seeing miss Crawford's understudy, Taylor Richardson. Richardson usually plays Duffy, one of Annie's fellow orphans, but tonight she step front and center. This girl must be fearless, getting up in front of an audience and preforming songs she usually watches every night and pulling them off with promise and poise. Jane Lynch (
"Glee"
) finally shines on Broadway in a part that has just been screaming waiting for her to step into it. Lynch is evil, cunning and truly scary knock out as she towers over orphan stand out, the adorable Emily Rosenfeld, Molly. Anthony Warlow is making his Broadway debut as Daddy Warbucks, and he preforms with an elegance and charm that makes the audience fall that much more with the Warbucks and Annie couple. Unfortunately this cast isn't all great seeing as the most fun number, Easy Street is hardly any fun when
Clarke Thorell
as Rooster Hannigan and
J. Elaine Marcos
as Lily St. Regis
are preforming it; its barely heard and they dancing is all over the place.
Not to worry though, Marcos and Thorell arent the only thing that is a damper on this show. The lack luster set design by
David Korins
brings a new meaning to a story book, as he turns everything into an actual book. But thank god for Donald Holders lighting who makes Korins sets and the actors look stunning.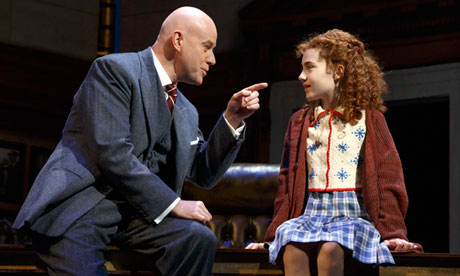 This Annie revival directed by the famous James Lapine runs at the Palace Theater in Time Square. Jane Lynch as Miss Hannigan isn't something you are are gonna want to miss.