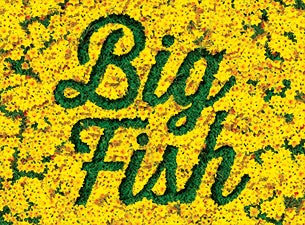 Sometimes, life's stories can be more extraordinary than any fairytale. Big Fish gives account of the tall-taled days of Edward Bloom (Norbert Leo Butz), a man whose life seems to come out of a story book. Although Will's(Zachary Unger as the child, and Bobby Steggert as the adult) mother Sandra (Kate Baldwin) and wife Josephine (Krystal Joy Brown) indulge in the truth of Edward's fanciful tales, Will refuses to believe until he can uncover for himself what is real and what is fantasy. What results is the manifestation of all of Edward's best memories woven into present day to show us that in fact, "The ones who face their fears lead the most interesting lives."
Butz is the true definition of a Leading Man. His presence is commanding, and with a velvety voice and ease in dance, you don't want to take your eyes off of him. Even more impressive was his ability to seamlessly transform his age from an elderly man, to a teenager, to an adult, and back again within a matter of moments; I'm not even sure how old Butz really is he transitioned so well. The same goes for Baldwin. We get to watch Sandra gracefully change from girl to woman, all while being lucky enough to hear her beautiful voice ring out. Bobby Steggert(Older Will) stands his ground with the heart wrenching performance of a son struggling to believe in the man he has looked up to his entire life.
From the very moment the lights came up, the stage is flooded in rich beautiful color; Julian Crouch's scenic design transforms from a dark forest to a warm, modest household to bright USO show. William Ivey Long's costume designs could be considered their own characters with dresses becoming swaying trees and crackling campfires, men turning into giants, and women into mermaids.
From Ashton, Alabama to Central Park, to the Calloway Circus, each new world is more fantastic than the last. Use of projections made the impossible a reality, and technical aspects including a stage full of daffodils and dancing elephants made it a spectacular. Andrew Lippa's bright score and Susan Stroman' s exciting choreography are reminiscent of the classic Golden Age of Broadway with big production numbers ("Be the Hero") to tear-jerking ballads ("I Don't Need a Roof"). Together, everything blends to make a fresh, modern take on the classic Musical Theatre structure.
Many will notice that although the story is still from Daniel Wallace's novel, it is not the same as the Big Fish we know from Tim Burton's film. On screen, the life of Edward Bloom was much darker and oftentimes more like a fable, whereas onstage it's closer to a fairytale. In my opinion this was a smart move by John August, who penned both the screenplay and the musical's book. The bright version of Big Fish for stage is energetic and engaging, which is needed for a piece of musical theatre to be successful. Many shows that come to Broadway now are inspired by films, so oftentimes it can be difficult to stick out and be memorable. Where Big Fish gets it right is its ability to stand as its own piece of theatre, you don't need to be a fan of the movie to fall in love with the piece on stage.
Big Fish
opened October 6 and is now playing at The Neil Simon Theatre.
Review
By: Kelcie Kosberg