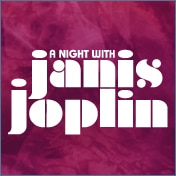 A Night with Janis Joplin
is a musical journey celebrating one of the most influential female rock in roll artists of all time – Janis Joplin. Her biggest musical influences – trailblazers Aretha Franklin, Etta James, Odetta, Nina Simone and Bessie Smith, make guest appearances to further explore what it means to be a female icon in a then male dominated world.
Like a comet that burns far too brightly to last, Janis Joplin (Mary Bridget Davies) exploded onto the music scene in 1967 and, almost overnight, became the Queen of Rock 'n' Roll. The unmistakable voice filled with raw emotion and tinged with Southern Comfort made her a must-see headliner from Monterey to Woodstock. It would take a woman filled with the same gumption to pull off such a performance and while Mary Bridget Davies can sing and act like Janis, her stage presence was lacking.
Mary Bridget Davies is reprising her role as Janis Joplin on Broadway, having previously taken the country by storm with her critically acclaimed performance.
It seems a shame that a woman with a voice like Mary's, was what looked like banned to the corner of the stage to tell her story. Out of all the hits, I found the song selection disappointing. Redeemable moments were Mary's performance "Another Little Piece of My Heart," and her duet with Aretha Franklin that closed Act I. Despite the promising cast and Mary's voice, this stage adaptation doesn't compare to a concert given by the Queen herself, but it's a close second!
The choreography done by Patricia Wilcox(Motown) lacks the creative flare that it could have been, but the set and lighting design done by Justin Townsend (Bloody Bloody Andrew Jackson) more than makes up for it. Townsend's designs put the audience in a glorified warehouse while the lighting sets the mood for a rock concert worth attending.
A Night with Janis Joplin opened October 10, 2013 at Broadway's Lyceum Theatre.
If you are a true Janis Joplin fan, then this show is definitely worth seeing.
Review By: James Russo