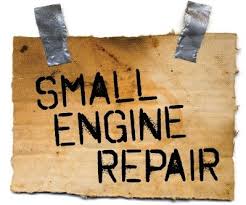 In Small Engine Repair, high school buddies Frank, Swaino and Packie —now past their prime—meet off-hours one night in Frank's out-of-the-way repair shop under cloudy circumstances that only Frank seems to have a handle on. Enter Chad, a plugged-in preppy college jock, whose arrival ignites a long-simmering resentment that sets this taut, twisty, comic thriller on its breathless course.
John Pollono is not only the playwright but he is Frank, owner of Frank's Small Engine Repair, and the reason why these three friends come together. As a playwright, Pollono knocks it out of the park. Even though its packed full with f-bombs and other obscenities, those only enhance the true grittiness of the play. As Frank, he is emotionally engaging, thrilling, and a little frighting; he really brings to life his heart breaking story. James Badge Dale portrays Swaino, their horny argent friend. Dale steals the show with his repulsive, hilarious, and very committed performance. James Ransone is innocent, heart warming, and factious as their well equipped friend Packie. These three men worked so well together, it was believable that they could have actually been friends for years. Keegan Allen ("Pretty Little Liars") plays Chad, preppy college drug dealer. Although Allen is probably the reason for why people are coming to the show, he is certainly not the reason why people are leaving happy. Out of all four of the actors, Allen is unfortunately lackluster, giving a performance that lacks drive and intention.
Worth noting is the intricate set that served as the backdrop for the performance. Richard Hoover clearly outdid himself with this brilliantly constructed, chaotic shop, setting the audience in the garage as easily as if they were there to have their own car parts looked at.
Small Engine Repairs officially opened at the Lucille Lortel Theatre on Wednesday November 20, 2013 and runs a limited engagement production through December 21, 2014.
Photos By:

Joan Marcus
Review By: James Russo