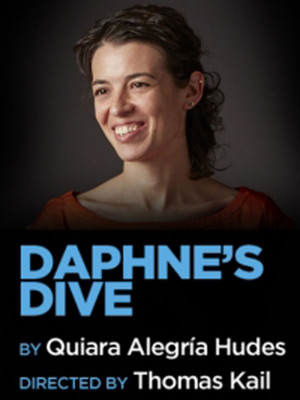 You gotta love a show where you feel a part of the atmosphere, invited into the culture, all the while moved with the rhythm of the story, as if you lived it and it were your own. That, my friends, is the feeling you feel watching Daphne's Dive over at the Signature Theatre.
We meet Ruby (an astounding Samira Wiley) at 11 years old and grow with her and the rest of the dive bar ensemble over the course of 18 years. Daphne (Vanessa Aspillaga) runs the bar and adopts Ruby after bar regular Pablo (Matt Saldivar) finds her in the dumpster while he was in pursuit of trash for his art. Ruby grows very fond of another bar regular Jenn, (KK Moggie) a fanciful social activist who rents from Daphne's politician brother-in-law Acosta (Carlos Gomez) and sister (Daphne Rubin-Vega). Midway through the story, Pablo has an art exhibition of his trash and we find out that Jenn has taken her own life during one of her protests. Ruby is destroyed by this, and we watch her and the ensemble's response to loss, grief and the healing process.
Director Tommy Kail and Playwright Quiara Alegria Hudes work hand in hand again, after their success with In The Heights. Kail perfectly masters the pacing of the vignettes, keeping us on our toes as to what will happen next to this poor community.
You undoubtedly come to see this play for Samira Wiley's contributions to the piece. She is the heart, soul and liver of the bar and you simply cannot take your eyes off her. We feel a part of her characters development as we watch the world harden her as a child, as a teenager, and as an adult in all different capacities of the heart. Her performance is simply unmatched and gives the play a unique foreground to build itself upon.
Go on and have a drink at Daphne's Dive and bring a friend- you'll have a lot to discuss and a lot to reminisce about- just don't forget to tip your bartender.
Review By: Brittany Goodwin