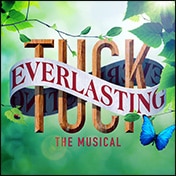 Are you feeling down in the dumps? Are your adult responsibilities draining you? Well, head down to the Broadhurst Theatre and see, Tuck Everlasting... immediately! As you enter the theatre you are immersed into a magical forest. You can't help but awe at the stars and this giant tree (which I had to physically restrain myself from climbing.) The entire creative team does a fantastic job crafting a world we want to live in.
The show tackles the timeless question: IF you could live forever, would you? We follow the adventure of Winnie Foster, who stumbles upon a family that is a little odd and discovers a secret about them that she can never break! Winnie Foster played by the amazing Sarah Charles Lewis, manages to make the entire audience fall in love with her! You can't help but smile every time she's on stage, and boy does she have a voice! Oh, did we mention she is only eleven years old?
The Tuck family has more baggage than anticipated but you can't blame them, they are over one hundred years old! They are led by Mom (Carolee Camello) who brings a sweetness yet stern presence to the stage. Dad(Michael Park) who manages to make dad jokes actually funny (who knew?).
And rounding out the family are o
ldest brother Miles (Robert Lenzi) who grounds the Tuck family and Jesse (Andrew Keegan Bolger) whose energy bounces off stage, making you want to go wherever he goes!
We can't forget about comedy duo Hugo (Michael Wartella) and Constable Joe (Fred Applegate). Following their case to find Winnie is sugar sweet, charming and hilarious. In addition, Winnie's Mother (Valerie Wright) and Nana (Pippa Pearthree) serve memorable moments; you wish they were somehow incorporated more! Tough cookie Nana almost steals the show!
Jesse Tuck and Winnie Foster capture your hearts early in the show. Once they climb a tree, you are sucked into this whimsical forest. The whimsy was at its peak during the Fair. Everything from the set, costumes, lighting, DANCING, captured the true magic of the show. It made every child gasp in the audience. It made every adult reminisce a childhood memory.
T
his show has something for everyone, every type of person, every type of dreamer, at any age. We have adult humor that goes over the kids' heads, and we have spectacle to keep them entertained. It was truly a great night of musical theatre. Tuck Everlasting will make you smile throughout the entire show… until the end. There is something for every generation, just watch out for the evil banana.
Review By: Briana Burnisde
Photos By:
Greg Mooney